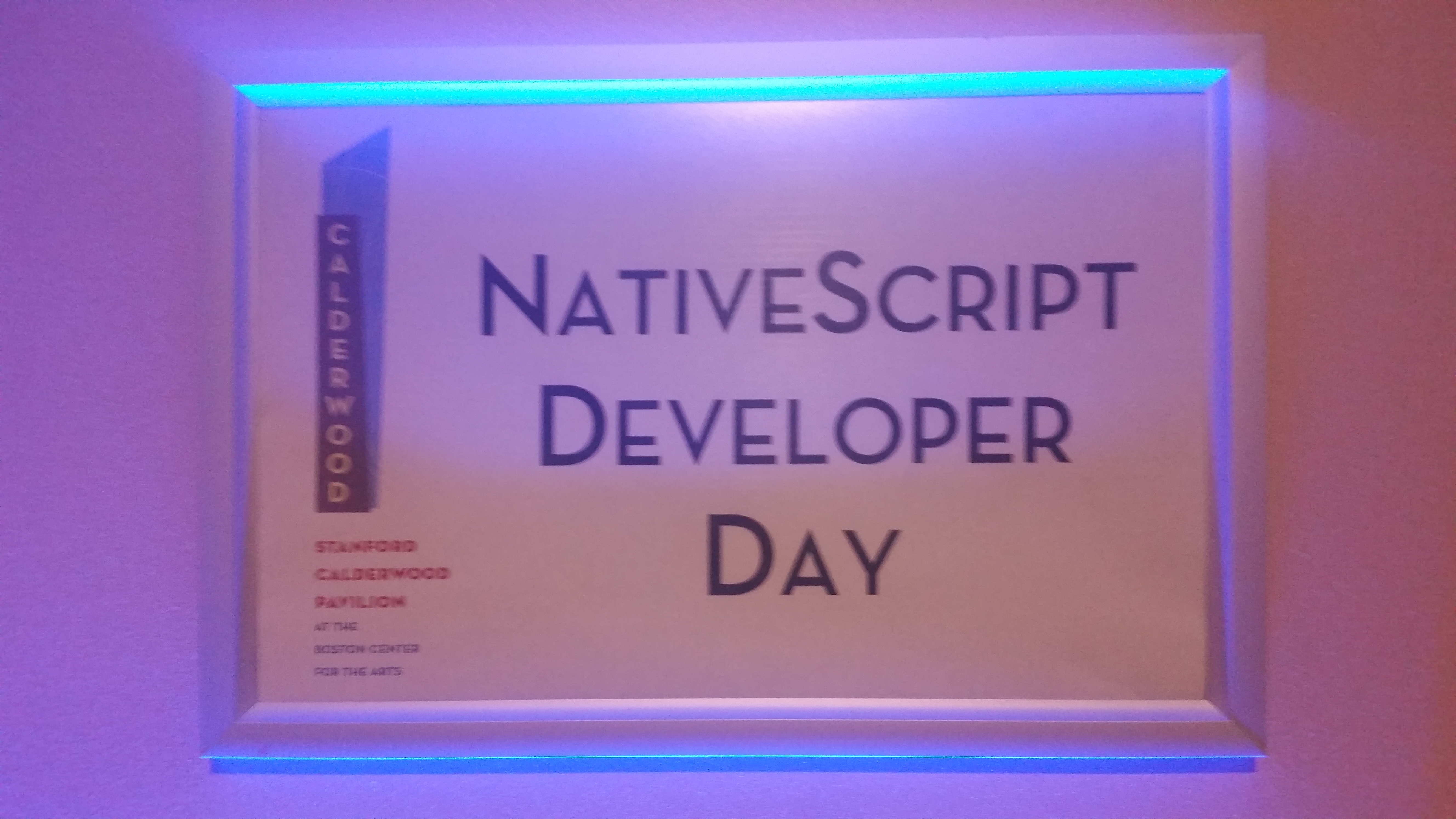 Well, we just finished the Conference yesterday!   Thanks for everyone coming out; I enjoyed meeting a ton of you.   And I hope everyone had a great conference.    For NativeScript being released as a Beta to the world 18 months ago; they had a large turn out.   In fact the Angular Native sessions had to be split into two rooms because so many people showed up.   Good problem to have!
Great job by Brian (and I'm sure others behind the scenes at Telerik & Progress) getting everything coordinated and setup.   It was an enjoyable conference with great speakers.
T.J. and Jen did a great job on the Angular 2 training session; I even learned some things in Angular Native; check out the in-depth tutorial on Nativescript.org, great stuff.
The Opening by Burke and Todd was very entertaining and love some of the history and vision you guys presented...    In 2014 NativeScript was started.  18 Months ago was when the beta was released, and the rate of adoption for NativeScript is through the roof.
I have to say, I'm still very very sad that Sebastian wouldn't let me steal his evil and "un-named" bot -- I would have provided a good home for it, and I could have helped with your goal of world domination...  So tell me Sebastian which room are you in again?     😉
I thought Alex Ziskind's talk was awesome, I don't use Office 365; but man your Plugin ROCKS!   If I get any clients that need that type of functionality; I know which plugin I will use.   Awesome job on both the plugin and the speech!   And to answer your question, Calendar would be my bet for next integration, everyone uses a calendar...
Nathan's Walkers ShoutOutPlay is awesome, I love how you blended using your ShoutOutPlay with your slides and talk; that was genius; and really made your talk shine!    Sharing! Sharing! Sharing!   😉
Congrats for MeWatt for winning the app contest -- the app & technology is very cool; but what stood out most to me is as I talked to the owner of the company (which he was an awesome guy) -- he mentioned that the app was built in 7 weeks from NO NativeScript knowledge to fully working on Android and iOS.   Holy smokes, 7 WEEKS to Awesome APP.   Talk about NativeScript being enabling!
And Raymond had a great talk to close out the day.  I so REMEMBER the magazines and typing in the many many lines of code; COMPUTE was the magazine I always waited for; I was on the c64...
The #MobileTea meetup after the #NSDevDay was cool.  It was people from the entire mobile community; React, Cordova, Native, etc...   The funniest thing that happened was two guys did a great job of presenting how to use PouchDB (on browser) and the native CouchBase library stuff on ios for doing local data and offline data and syncing of it.    However, the presentation on iOS he was showing the code for how to setup Couchbase and syncing and it was a lot of code.   (He did do a good job)...   So I did a quick search on our plugins site NativeScript.rocks for couchbase and found the plugin and the docs and it is 8 lines TOTAL of code to do the exact same thing in NativeScript and those 8 lines enable it on both Android and iOS...   NativeScript is just so COOOOOOL...  🙂
It was awesome to meet a several of the engineering team from Sophia -- we had some great discussions, and they now get to put a face to "that" guy that posts all those weird hard bugs that really mess up the schedules...  😀    The cool thing was we actually hashed out some great ideas for how to help enable several parts of the community to flourish more and how to help the community know what bugs we can easily work on ourselves from the TNS-Core.
It was also very cool to meet Rob, Brandon, and Clark from Progress/Telerik at the speakers dinner, all of them way behind the scenes at Telerik.   Rob, if you ever get any openings in your team -- it sounds like an awesome job, I love hacking on new technology....  🙂
And of course it was very awesome to meet Valio & Todd, Dan and Brian at Telerik, I chatted with each of them several times over the last 18 months, so it was great to finally meet and put faces to the name.
So if you picked up one word.  It was AWESOME...  Thanks again for everyone I got to talk to, and If I didn't put anything in here about you; my apologize; names and my memory sucks...
Oh and I plan on putting a blog post up later on my Presentation with the slide deck, link to the source & tests and all the key parts to help anyone who is interested in NativeScript Testing.     I understand the talks were all recorded; so I'll update the post to link to them when they are released!