I've had a lot of bad experiences with companies over the years; but this one takes the cake (The cake is a lie!) for me, in how not to treat a customer (let alone a developer in your ecosystem).
For those who don't know who I am, I have written somewhere around a 100 plugins both open source and many for different clients. Primarily for the cross platform framework NativeScript. So I have plugins from making Unity run and communicate with NativeScript to even making ColdFusion be able to drive an NativeScript app. On the Hardware side, everything from mobile printers, credit card readers and just a week or so ago the cool SocketMobile barcode scanner. All of them work great with NativeScript. So in a nutshell, I play with lots of hardware and software and write a lot of code in a lot of industries, including optimizing business practices...
As such I have a number of phones, one of them is the Samsung Galaxy, which supports the GearVR, so as such I have been a Oculus developer for multiple years. I've been working on a couple ideas; and even created a couple concept Unreal apps on my GearVR devices.
So as many of you might not be aware of getting a Oculus Quest is a an experience in frustration, they are sold out everywhere (unless you want to be scalped and pay twice as much).
So, I thought I scored last week. I read an article that Oculus finally had some stock again. Connected to their site; found that they were already out of stock on the 64 gig version, so decided because I have no idea when they will be in stock again, I'd spring for the larger more expensive version... So placed my order, had an order number, everything seemed to be great...
Then the pain begins....
Two days later around midnight, I get this message:

I'm like what the HELL, I've been waiting forever and they just CANCELLED my order, no contact, no nothing; just lets cancel it... (Serious question, Oculus, why don't you put in this message why it was cancelled, since the person cancelling it knows.)
Make it stop...
Ugh, of course, I went immediate to their site and guess what: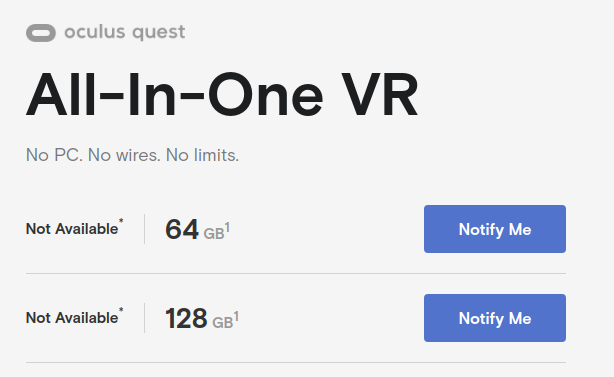 Yep, all sold out again.. Shoot, well maybe they can undo the cancellation; and we can figure out why they would cancel a order and fix whatever mistake was made. Clicked the support link and of course it brings you to the generic support site (Serious question, Why doesn't the email link put you on the proper url?). Spend a few minutes finding the right form to fill out and send them a question asking the simple easy question of "Can you tell me why my order XXX was cancelled?"
Lets apply the thumb screws...
The automated system sent and email response and stated, it could be up to two business days; but they did respond in one! Very late the next day I get a message from CS saying thanks for contacting us... But man my heart dropped.

do not create any new orders (Not than I can, its out of stock already!)
WE ARE UNABLE TO RE-INSTATE IT.
At this point, I realize, I am screwed, I can't reorder even if I wanted to; and that they won't re-instate the order. They officially jumped from well this experience so far just sucks, wasting my time... to Oculus customer service/order system really sucks. WHY THE HELL DO YOU CANCEL A ORDER, IF YOU CAN'T RE-INSTATE IT? Seriously bad customer interaction at this point... If their is a order issue, and you can't re-instate it, then suspend/pause the order and deal with the issue, don't just CANCEL the order leaving the customer with NO recourse...
Electric shock therapy is best...
And to top it off; lets see why the cancelled it (this message came the next day)
So basically:
- If I'm in the military and serving anywhere outside of the United States and decide to buy a US model, I can't...
- If I'm a expat living anywhere else in the world; apparently we can't either.
- If I'm uncertain where I'm going to be in the near future (like was in college, now at home), and decide that I want to make sure all my mail is handled and sent to where I am currently, no matter when this ships and arrives... I can't...
- Worried about spouse abuse and sending all mail through a third party to eliminate the ability for them to track me via my mail. I can't....
Really, Oculus! You f**kin cancelled my order because I ordered a SINGLE device, am a known developer in your developer program for several years and wanted to ship it to a place that can re-ship it to where I'm actually located right now. Your going to cancel the order, leaving me no recourse...
Maybe Bleach will work...
Then state I can order it this way from any of your support partners, seriously? You say we can't do this; but you can get around us, this way. Here's a link to make it much simpler!
Honestly, management needs to make some heads roll, that has to be the stupidest policy I've ever heard of...
But for those who typically use a Reshipper/concierge for your mail; you need to use a friend (which I would have done had I known that up front, now it is too late!)...